Don't hire an out-of-town "online service" to process your Record Suspension / Pardon application. Protect your private and confidential information and save money in the process by hiring ACF Pardons & Waivers to assist with your application.

Step One: Attend our Barrie, Ontario office for a free consultation so you can get to know us. We will explain the process, our fees and disbursements and answer any questions that you may have.
Step Two: We will determine your eligibility for a Record Suspension. We will never start the process unless you are first deemed eligible.
Step Three: If you are ready to proceed with the application we will take your fingerprints for FREE* to begin the application process.
Step Four: You will sign some documents, give us authorization to assist you and leave the rest to us!
Call us today at 705-737-1751 and book your appointment to meet Arlene and Steve, our fingerprint technicians and Record Suspension experts. We are proud to assist all residents of Simcoe County and surrounding areas.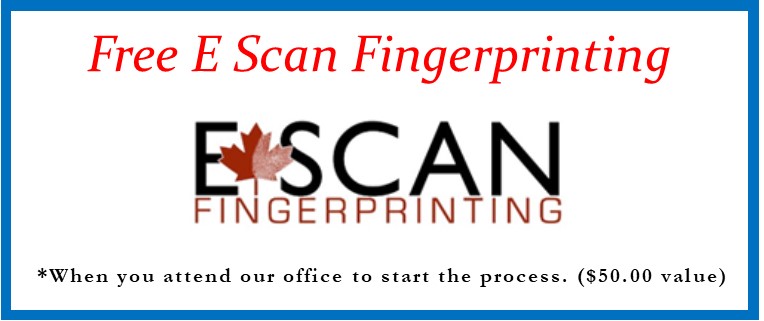 *Free E Scan Fingerprinting applies to the fingerprinting fee only ($50.00 value). Disbursements are not included.
ACF Pardons & Waivers staff are local, Law Society of Ontario licensed paralegals who have processed thousands of Record Suspension and U. S. Waiver applications since 1996. Our mission is to serve our community with honesty, integrity and professionalism. We are located in Barrie, Ontario and are here to serve the residents of Central Ontario.
Our Service Guarantee
We will protect your private information
We will ensure you are eligible before we begin the process
We will explain the process, our fees and disbursements
We will identify and discuss potential difficulties with your application
We will be honest with you at all times
We will return your emails and phone calls in a timely manner
We will always act in YOUR best interest
Free* E Scan Fingerprinting when you attend our office to start the process
49 High Street, Suite 302, Barrie, ON L4N 5J4

Completely clear your criminal record forever with a full pardon from the Government of Canada.

Travel freely to the United States with a waiver from US Customs and Border Protection Agency.

Completely destroy previous arrest records and files with both federal and local authorities.

© Copyright ACF Pardons and Waivers